Hmm, I appear to have missed July. And half of August too. But I'm back! Life has been very busy off the farm this summer. I suppose on the farm things have been going non-stop too. The sheep have been having worm issues this summer. The hot wet conditions have been ideal for internal parasites to flourish, and they've been trying to do just that. Battling them has been an ongoing struggle, but we (the sheep and I) are still winning. The lambs are growing well, and the males and females have been separated. One of my oldest girls, Tara, has just developed an eye infection that I think is pinkeye (contagious!) so I've confined her to the barn for treatment. Keeping a close watch on her progress, and checking the others for signs every day but so far it's isolated to Tara.
I think the biggest news from the past month is YARN! Yes, I have yarn again. And I've been dying and knitting and loving it! Look at the beautiful colors I have done so far: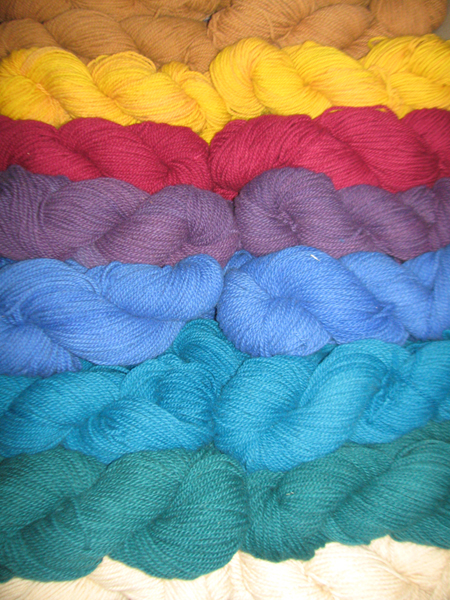 The wool has been spun into a sport weight yarn, a little bit lighter than last year's crop. The 3oz skeins are $14 each, dyed or undyed, and contain approximately 150yds of yarn. I am working on knitting an aran sweater for my husband's birthday in December out of undyed yarn:
Let's see, what else… gardening has been a complete hit or miss this year. Raspberries, basil – hit! Lots! Red cabbage, tomatoes – miss. All eaten/destroyed with not a one harvested. Parsley, cucumbers – in the middle I suppose. The parsley was doing great and I've been using it fresh from the garden quite a lot, until a few weeks ago when I found nothing but a patch of stems, with all the leaves eaten away! They're sprouting new leaves though so I may get more out of them. The cucumbers also did well for a little while and I was able to harvest a few, before the plants were killed by beetles. Win some, lose some. I also really wanted to plant a pumpkin patch this year, but it was not to be. One thing after another trying to get the bed prepared, with huge tiller problems that when finally resolved culminated in tilling up an underground nest of hornets or yellowjackets or something with horribly painful stingers! That was the final straw on trying to get the pumpkin patch prepared. I did rescue four of the pumpkin seedlings and planted them in the garden in front of the house – so far they're growing well, I hope they survive!